4 Easy Tips That Will Help You Get Your Lawn Ready for Spring
As the days are getting longer and the temperature is getting milder, you are probably itching to spend some time in your backyard. But, as you happily make your way into the forgotten corners of your property, you may notice old man winter has left its toll on your lawn.
Winter can leave behind broken branches, bare patches and a weak and hungry lawn. Although the sight of your destabilised grass might leave you discouraged, don't despair. With a little work and the right kind of upkeep, you can soon have the vigorous, green landscape you have longed for all winter.
Here is a list of 4 easy tips that will help you get your lawn ready for the warm season—and become the envy of the neighborhood!
#1 Don't Underestimate the Importance of Proper Lawn Spring Care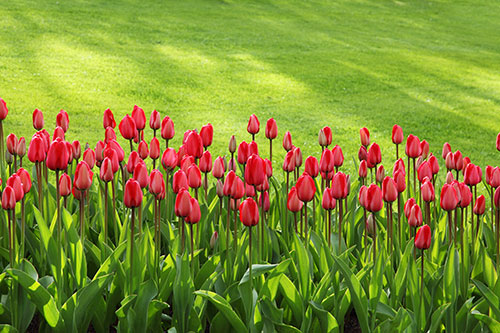 No matter how tempting it might be to ignore lawn spring care, neglecting your lawn early in the season will result in damage that will last the rest of the year. From brown patches of dead grass, to weeds overtaking your whole yard, not doing what needs to be done now, will leave you struggling for the rest of the summer. Avoid paying for it later. Take the necessary steps to care for your lawn properly, and watch it grow strong and lush all through the spring and summer season. Also, the time—and money—spent on your grass now will be saved later. A healthy turf is more resistant to droughts, insects, and other stresses brought by the seasonal changes ahead.
#2 Complete a Lawn Analysis in Early Spring
Not all lawns are created equal. And, as a matter of fact, the same lot might require different treatments from one year to the next. Completing a full lawn analysis will help you determine the condition of your grass and soil, what actions need to be taken right away, and what can wait until the fall.
Although many homeowners tend to skip this, it is recommended to have an expert lawn care professional complete your lawn analysis. A professional will give you knowledgeable advice on how to maintain the health and look of your lawn, and will be able to evaluate the following elements that will establish what are your lawn's specific needs:
Grass and soil types
Turf density
Thickness of thatch
Potential or existing pests, insects, weeds, or lawn diseases
Watering and mowing frequency
Potential problem spots
#3 Get Cleaning
Leaves, twigs and debris might have accumulated on your lawn during the winter. Using a rake is a great way to control thatch, encourage better air flow and prevent insect infestation and grass diseases such as Snow Mold.
#4 Apply the Right Treatment to Your Turf
Your lawn might not need the same treatments every spring. While some treatments can sometimes wait for the fall, some others might be important to complete right away. For example, if your lawn is infested with crabgrass or weeds, you might opt to apply an herbicide right away, and save the reseeding for the fall season (seeding would be useless if you have applied herbicide because the herbicide would cause the overseeding process to fail).
Here is a list of treatments that should be considered completing in the spring, all being influenced, as mentioned, by your lawn's condition.
Aeration
Aeration is often most beneficial in the spring because it will relieve the soil compaction that has occurred during the winter. Snow and ice press down on your lawn, the pressure causing your soil to be squeezed together, consequently making it harder for it to absorb water and nutrients. Aeration will therefore allow your lawn to breathe and soak up what it needs to grow strong and healthy.
Overseeding
Overseeding in the spring can be very effective, especially when done during the earlier part of the spring, before the arrival of higher temperatures. You might want to opt for this treatment in the spring if your lawn seems thin or damaged. For optimal results, combine overseeding with lawn aeration.
Fertilize
Spring is the time when new grass grows. Therefore, fertilizing is ideal in the spring. However, avoid fertilizing too early in the season. At the beginning of the spring, your grass is focusing all its energy on root development. Applying fertilizer during this period, will turn the plant's focus on leaf development, resulting in underdeveloped grass roots, and, consequently, a weaker lawn.
Apply Herbicides
If your lawn is prone to weeds, applying pre-emergent herbicides in the spring might be a good option. Pre-emergent herbicides are applied prior to the weeds' germination.
Following these 4 easy tips will ensure that your lawn will develop properly and to its best potential. At Enviro Masters Laval, we can help with every step on the path to a rigorous, healthy lawn. Discover our lawn treatment programs, suitable for all soil types.